Laser Tooth Whitening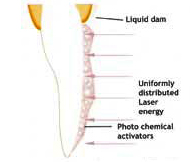 The laser machine's laser wavelength output is specific for the specially blended whitening gel. This increases efficiency and minimizes the amount of energy required to produce the maximum result. This specific laser system shortens treatment times, increases effectiveness and eliminates the heating of teeth that can result in post-operative sensitivity.
Non-Laser Tooth Whitening , heat blue lamp technique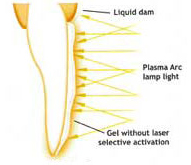 Ordinary non-laser whitening systems require longer treatment times and higher energy output because of their inefficiencies. Non-laser whitening devices use a smaller percentage of the polychromatic light's energy. The rest of the energy is wasted as heat and, which is absorbed by the teeth and adjacent tissues. This results in infra-operative and post-operative sensitivity.