History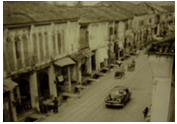 Located on
trading routes
between India and China, Phuket was subjected to foreign influences long before many other parts of Thailand. Ships would anchor in the
safe harbours
of Phuket and wait for the northeast monsoon winds which would allow them to proceed to India. The interior jungle was inhabited by
indigenous tribes
until they were displaced in the 19th century by tin miners. The coastal areas were inhabited by
Chao Leh
, sea-gypsies who made their living through piracy and fishing for pearls. Although threatened by development, Chao Leh villages can still be found along the coast of Phuket and neighbouring islands. Phuket first became part of a Thai state during the thirteenth century when Thai armies from Sukhothai wrested control of the island from the
Sirivijaya Empire
based in Sumatra.
Tin & Rubber
Phuket is first mentioned as
a major source of tin
in the sixteenth century when the island became an important source of revenue for the Thai kingdom at
Ayuthaya
, as well as an important trading post. It was also during this period that the first Europeans arrived on Phuket. Due to Phuket's abundant supply of tin and its importance as a trading port, the island's economy continued to prosper.
The British secured a tin mining concession
and nearly claimed Phuket as part of the British Empire, opting instead for Penang due to its safer harbours. Phuket's streets were lined with handsome buildings constructed in the
Sino-Portuguese style
by the tin-barons, many of which can still be seen in older quarters of the town.
At the end of the nineteenth century, the island's interior still remained relatively untouched. Much of it was still covered in
ancient rainforest
. However, at the beginning of the twentieth century, large areas of the island were cleared to make way for
rubber plantations
, irreparably altering the landscape of the island.
Tourism
Tourism began on the island in the 1970s with the first beach bungalows at
Patong beach
. During this time Phuket was a haven for
backpackers
. Phuket's idyllic tropical beaches and clear warm waters attracted travellers from all over the world to the island. This was facilitated by the building of an
airport
in the mid-1970s.
Today, tourism is by far the island's biggest industry with
over 3 million tourists
visiting the island annually, making Phuket one of the most popular travel destinations in South-East Asia.