The Regional Manager Asia Pacific from Discus Dental, Mr. Jason Tseng visited our clinic to bestow the Zoom Whitening's Top Provider certificate in Thailand on October 3,2011 and this can guarantee our excellence in performance and effective results.

"ZOOM! WhiteSpeed" Whitening Bangkok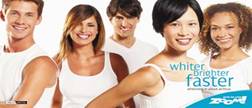 Zoom! WhiteSpeed
The latest whitening technology from Discus Company (BriteSmile / USA)
Transform your Smile to WOW!
Nothing whiten better or faster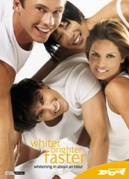 Your smile is important. It's one of the first things you notice when you meet someone. A whiter, brighter smile is beautiful - it can help you feel better about yourself and make a memorable impression. Your lifestyle and the aging process can stain and darken your teeth. Many things we do on a regular basis can contribute to stained teeth, such as drinking coffee, tea, soft drinks and red wine or smoking.
Wow means getting you to B1* or better into the bleaching shades. For many dentists it's not just about getting teeth a certain number of shades lighter. Today's patients have expectations of getting their teeth white, really white and Zoom delivers.
(*B1 is the name of the lightest natural tooth shade on the Vitapan? shade guide. The shade guide shown above is used to measure and photograph your 'before' and 'after' shades. Vita is a registered trademark of Vita Fahnfabrik, H. Rauter GmbH & KG.)
Proven teeth whitening procedures are guaranteed to work on enamel as seen on the television program 'Extreme Makeover'
A combination of new cutting edge technology plus over a decade of unparalleled whitening experience went into the new & completely redesigned ZOOM! WHITESPEED Teeth Whitening system at Bangkok Smile Dental Clinic.
The new ZOOM! WHITESPEED 15 minutes, 3 cycles, in-chair tooth whitening system is a revolutionary teeth whitening procedure. It's safe, effective and fast, very fast. In just over an hour your teeth will be noticeably whiter. This is ideal for anyone looking for immediate results and will lighten your teeth an average of 6 to 8 shades from your natural color in just over an hour.

ZOOM! WhiteSpeed (USA) transforms your smile to WOW!
1 person
THB 9,000
US$ 300
AU$ 300